NEDERLANDS (scroll down for English):
Mr 2B Sung is een KIJKOPERAnimaTIE in het brein van een operazangeres 2 minuten voor aanvang van haar debuutoptreden in de Wiener Staatsoper.
De tijd is bevroren; de 2 minuten worden opgerekt tot een half uur waarin we getuigen worden van de angsten en fantasiën die door het hoofd van de zangeres flitsen.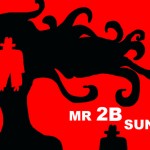 To be Sung
Elisa Roep – sopraan
Fie schouten – klarinet/basklarinet
Eva van der Poll – cello
Concept en regie: Vinex Productions, alias:
Sjeng Schupp (animatie) & Michiel van Dijk (muziek)
Mr 2B Sung is een 30minuten durend muziektheaterstuk voor zangeres, klarinet/basklarinet, cello, soundtrack en animatiefilm. Eerste uitvoering: 14.10.2010
Trailer


ENGLISH:
Mr. 2B Sung: an OPERAnimation from Sjeng Schupp and Michiel van Dijk, alias Vinex Productions
The brain of an opera singer 2 minutes for her debut performance at the Vienna State Opera.
Time is frozen, the two minutes seem half an hour, we are witnesses of her fears and fantasies that flash through her head. Her greatest fear – no single tone comes out on the supreme moment – seems to be unavoidable.
The duration is 30 minutes. Performed by trio To be Sung with animationfilm and soundtrack.
Premiere: 14.10.2010